Rethinking Climate and Energy Policies.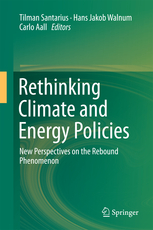 This volume, edited by Tilman Santarius, Hans Jakob Walnum and Carlo Aall, suggests rethinking current climate, energy and sustainability policy-making by presenting new insights into the rebound phenomenon. It offers new aspects in rebound economics, but then explores multidisciplinary perspectives on the phenomenon. The volume puts rebounds into praxis and presents several policy cases and sector-specific approaches, including labour markets, urban planning, tourism, information and communication technologies, and transport. It finally embeds the issue into the larger debate on decoupling, green growth and degrowth, and sketches out lessons learned for sustainable development strategies and policies at large.
See here the link to Rethinking Climate and Energy Policy to view the table of content and download the book or singular chapters of the book.